Current Events
Are you interested in a lecture, workshop, or training on forensic locksmithing, lockpicking/safecracking, physical security, or all of the above? Please contact me.
The event page is no longer actively maintained, but I still attend and host many events and provide training and forensic services both in the United States and internationally.
Past Events
LockCon 2012 - Lousiville, KY
This year's LockCon was at Lockmasters Institute in Kentucky. A gave a one hour presentation on tamper-evident technologies and a short workshop on defeating a few basic types of tamper seals. LSI is an amazing facility that is home to many great instructors and two of the best lock collections in the world!
LockCon 2011 - Sneek, Netherlands
I gave a two hour presentation on magnetic lock technologies, methods to open, decode, and forensically inspect them. A companion article to this talk will be available on the site eventually.
Toorcon 13 - San Diego, CA
Another year back in sunny San Diego at Toorcon. One again I ran the Lockpicking Village and Tamper Evident Contest. JK couldn't make it this year so Scorche and Charizard helped to make the LPV a big success. I ended up giving a last-minute 20 minute talk on tamper-evident technologies.
BlackHat USA 2011 - Las Vegas, NV
At this year's Black Hat & Defcon conferences I gave two talks and a two day training on tamper-evident devices. At Defcon, my team once again won the Tamper-Evident Contest hosted by The Dark Tangent. Good fun, good food, and good people --- as always.
LayerOne 2011 - Anaheim, CA
Another great year for LayerOne. It seems like this conference just keeps getting better and better. I ran the Tamper-Evident Contest (with JK) and the Lockpicking Village (with the help of scorche, Locksport International, Schuyler Towne, and TOOOL US).
AUSCert - Brisbane, Australia
At this year's AUSCert conference I gave a talk, a workshop, and a lockpicking village. This was my first time attending AUSCert but I had a great time. It was great to see so many police and government employees interested in lockpicking and physical security.
Toorcon 12 - San Diego, CA
This year at Toorcon I gave a presentation on methods to modify incorrect or blank keys in order to make low-tech tools to open pin-tumbler and wafer locks. I discussed the implications of key control, key distribution, and advanced keying mechanisms in modern locks and the security benefits they offer to end users. I also ran the Lockpicking Village and the Tamper Evident competition. Six teams competed but only one survived. Congratulations to "Covert Penetration" led by Gabe Lawrence for taking home the win.
LockCon 2010 - Sneek, Netherlands
I gave a presentation on Forensic Locksmithing as well as a presentation on the BiLock series of sidebar locks. Both were well received and I made a lot of new friends. I also won the lockpicker Monopoly game --- don't let Schuyler Towne tell you otherwise; we have it on film. Unfortunately I did not take my camera, but there are good photos and write-ups of the conference available at Jaakko Fagerlund's blog (Finnish).
Defcon 2010 - Las Vegas, NV
Another great year at Defcon. There were a number of lockpicking contests and the Lockpicking Village was packed all weekend. My team won the first ever "Tamper Evident Contest" in which teams are given a box sealed with a variety of tamper resistant and tamper proof tape. Inside were envelopes, bags, and other items also sealed with various tapes, stickers, and mechanical tamper seals (one way locks designed to show evidence of manipulation and damage, basically).
Toorcon 11 - San Diego, CA
Toorcon 11 was another enjoyable relaxing weekend in sunny San Diego. I ran the lockpicking village and gave a talk on Lockpicking Forensics with some material I don't normally include. I got to go to Dick's Last Resort and Lou & Mickeys, two of my favorite Gaslamp restaurants. Photos from the lockpicking village: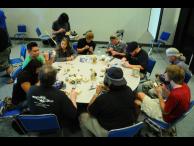 Black Hat & Defcon 2009 - Las Vegas, NV
Black Hat and Defcon were lots of fun this year. Deviant Ollam and Babak Javadi were kind enough to let me sit in on their physical security workshop at Black Hat. I was blown away by their extensive coverage and attention to detail. Great job, guys! I spoke at both Black Hat and Defcon and helped out in the Lockpicking Village at Defcon. Photos from the Defcon Lockpicking Village:
LayerOne 2009 - Anaheim, CA
I gave a talk on Lockpicking Forensics and ran the Lockpicking Village with scorche & Deviant Ollam. Had a great time! Who knew that a Pizza Hut inside a hotel would have some of the best pizza I've ever had. Photos from the Lockpicking Village: